TELEPORT / SATELLITE EARTH STATION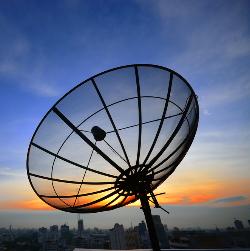 TV signal transmission via satellite provided by multipurpose digital HD/SD, fully redundant.
We have four 2.4m and four 1.8m certified Ku-band antennas together with HD/SD, MPEG-2/MPEG-4 encoders and DVB-S/DVB-S2 modulators.
We can transmit and receive HD/SD, MPEG-2/MPEG-4, DVB-S/DVB-S2 signal from the satellites between 22°W to 90°E.
Teleport is able to receive and transmit HD/SD video and ASI signal via such Fiber Optic operators as «Rostelecom» и «Synterra Media».
Satellite IP videoconferences from point to point.
IP connection for video and audio feeds from any locations for production purposes.
Satellite Internet HUB.

Back to the list