SNG / DSNG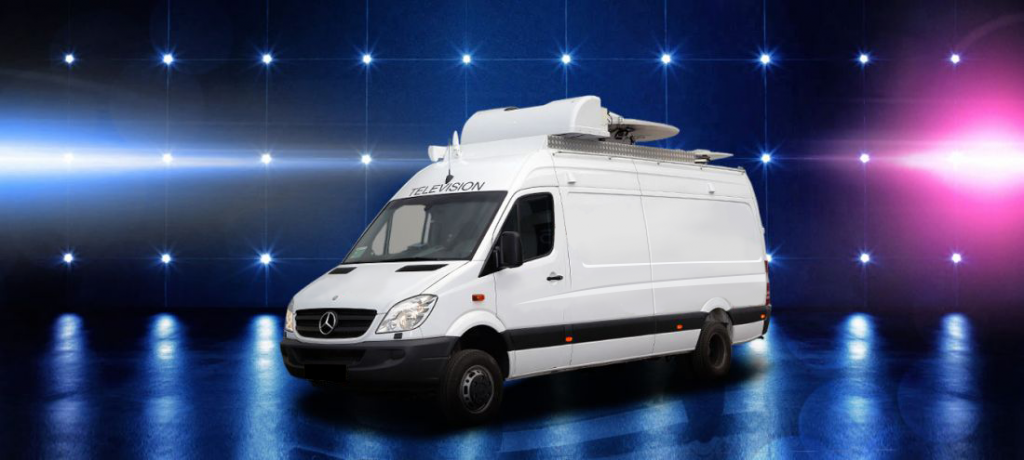 Fly away and Drive away satellite stations for a variety of projects and various mobile Ku-band antennas (1,2, 1,5, 1,8 и 2,4 m).
TV signal transmission via satellite provided by a compact, multipurpose digital HD/SD, SNG-truck, fully redundant. It has a Eutelsat certified Ku-band antenna with HD/SD MPEG4 encoders and DVB-S/DVB-S2 modulators.
Also we have mobile 1.2 (6 qty.), 1.5 (1 qty.), 1.8 (6 qty.) and 2.4 (4 qty.) m Ku-band antennas with HD/SD, MPEG-2/MPEG-4 coders и DVB-S/DVB-S2 modulators.
SNG Sprinter

GENERAL INFORMATION
Type Solid-metal van
Format 720р/1080i/1080p
Length (m) 7
Width (m) 2,4
Width expanded (m) 3,3
Height (m), max 5
Weight (t) Mobile Diesel Generator 12 кВА, External 380 В/CEE 16A

TV EQUIPMENT

Video equipment

Cameras 3 х Sony XDCAMHD PDW-700 (ENG)
Camera Connectors BNC
Lenses Fujinon 17x ZA
Pedestal Vinten VB 100-AP2M
Video matrix NEVION SL-3G HD 1616
Glue Axon Synapse
VTR 1 x HDCAM / 1 x HDV / 1 x XDCAM / 1 x P2
Monitors SONY 2x17" / 4x7,4" OLED
Measurement Equipment Tektronix WFM 8200
GPS/GLONAS Tektronix GPS7 + Leitch

Audio equipment

Audio mixer Yamaha DM1000VCM
Microphones Sennheiser
Sound systems Fostex

Intercom System

Intercom Matrix Procpect 8ch +IFB
Wireless Talk-back Riedel Riface, Phone Hybrid Glennsound 2ch

Satellite Equipment

Antenna 1,8 AvL 1812K Intelsta/Eutelsat approval
Amplifier (1:1 redundancy) 2x350W CPI + phasecombining
Modulating Equipment DVB-S / DVB-S2 QPSK / 8-PSK
Coding Block ERICSSON VOYAGER2
SNG Transit 476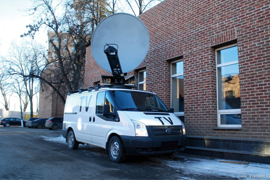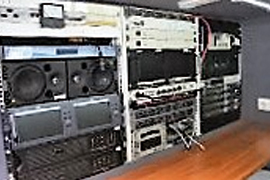 GENERAL INFORMATION
Type Ford Transit
Format 720р/1080i/1080p
Length (m) 7
Width (m) 2,4
Height (m), max 3,3
Weight (t) 3,5
Power External 380В/CEE 16A, 2 Mobile Generator 3 кВА

Satellite Equipment

Antenna 1,8 C-com 1812K Intelsta/Eutelsat approval
Amplifier (1:1 redundancy) 2x400W CPI
Encoder/Modulator 2 Harmonic ELP 2000 (HD/SD DVB-S / DVB-S2 QPSK / 8-PSK)
Receiver 2 Harmonic PVR 7000 (HD/SD DVB-S / DVB-S2 QPSK / 8-PSK)
SNG Transit 388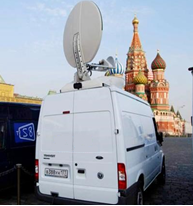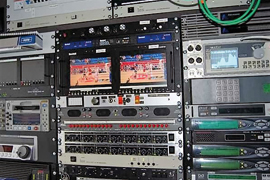 GENERAL INFORMATION
Type Ford Transit
Format 720р/1080i/1080p
Length (m) 7
Width (m) 2,4
Height (m), max 3,3
Weight (t) 3,5
Power External 380В/CEE 16A, 2 Mobile Generator 3 кВА

Satellite Equipment

Antenna 1,2 Holkirk RM 120 Intelsat/Eutelsat approval
Amplifier (1:1 redundancy) 2x400W CPI
Encoder/Modulator 2 Harmonic ELP 2000 (HD/SD DVB-S / DVB-S2 QPSK / 8-PSK)
Receiver 2 Harmonic PVR 7000 (HD/SD DVB-S / DVB-S2 QPSK / 8-PSK)
SNG Transit 183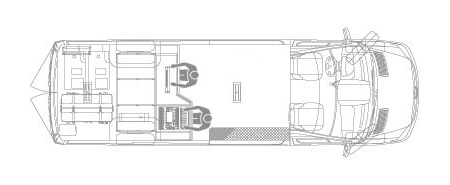 GENERAL INFORMATION
Type Ford Transit
Format 720р/1080i/1080p
Length (m) 7
Width (m) 2,4
Height (m), max 3,3
Weight (t) 3,5
Power External 380В/CEE 16A, 1 Mobile Generator 3 кВА

Satellite Equipment

Antenna 1,5m Swedish 150 Intelsat/Eutelsat approval
Amplifier (1:1 redundancy) 2x400W CPI
Encoder/Modulator 2 Harmonic ELP 2000 (HD/SD DVB-S / DVB-S2 QPSK / 8-PSK)
Receiver 2 Harmonic PVR 7000 (HD/SD DVB-S / DVB-S2 QPSK / 8-PSK)
SNG Transit 971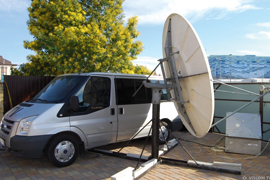 GENERAL INFORMATION
Type Ford Transit
Format 720р/1080i/1080p
Length (m) 7
Width (m) 2,4
Height (m), max 3,3
Weight (t) 3,5
Power External 380В/CEE 16A, 2 Mobile Generator 3 кВА

Satellite Equipment

Antenna 1,2 – 2,4 м Prodelin Intelsat/Eutelsat approval
Amplifier (1:1 redundancy) 2x400W CPI
Encoder/Modulator 2 Harmonic ELP 2000 (HD/SD DVB-S / DVB-S2 QPSK / 8-PSK)
Receiver 2 Harmonic PVR 7000 (HD/SD DVB-S / DVB-S2 QPSK / 8-PSK)

Back to the list