TELEPORT SERVICES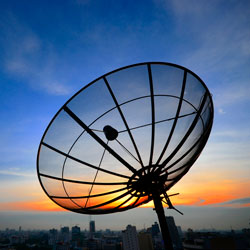 Reception of satellite communication channels.
The VISCOM receiving earth station (Teleport) is located near the Ostankino TV Center and has two spaced antenna fields (in the north and south of Moscow), which are equipped with a sufficient number of antenna systems of 1.8 to 5 m in size and the ability to receive signals from satellites from 12W to 90E.
Satellite channels are transmitted from the Teleport using 1.8 and 2.4 m antennas and Ku-band amplifiers of 200 Wt and 400 Wt.

Back to the list